Guide to Covid19 restrictions
Guide to Covid19 restrictions
---
See below a handy guide to Covid19 restrictions. It shows what's law, where restrictions are in place or whether there are changes to how businesses and organisations are operating.
To see full information, swipe (if you're using a mobile or tablet) or use the scroll bar at the bottom of the image.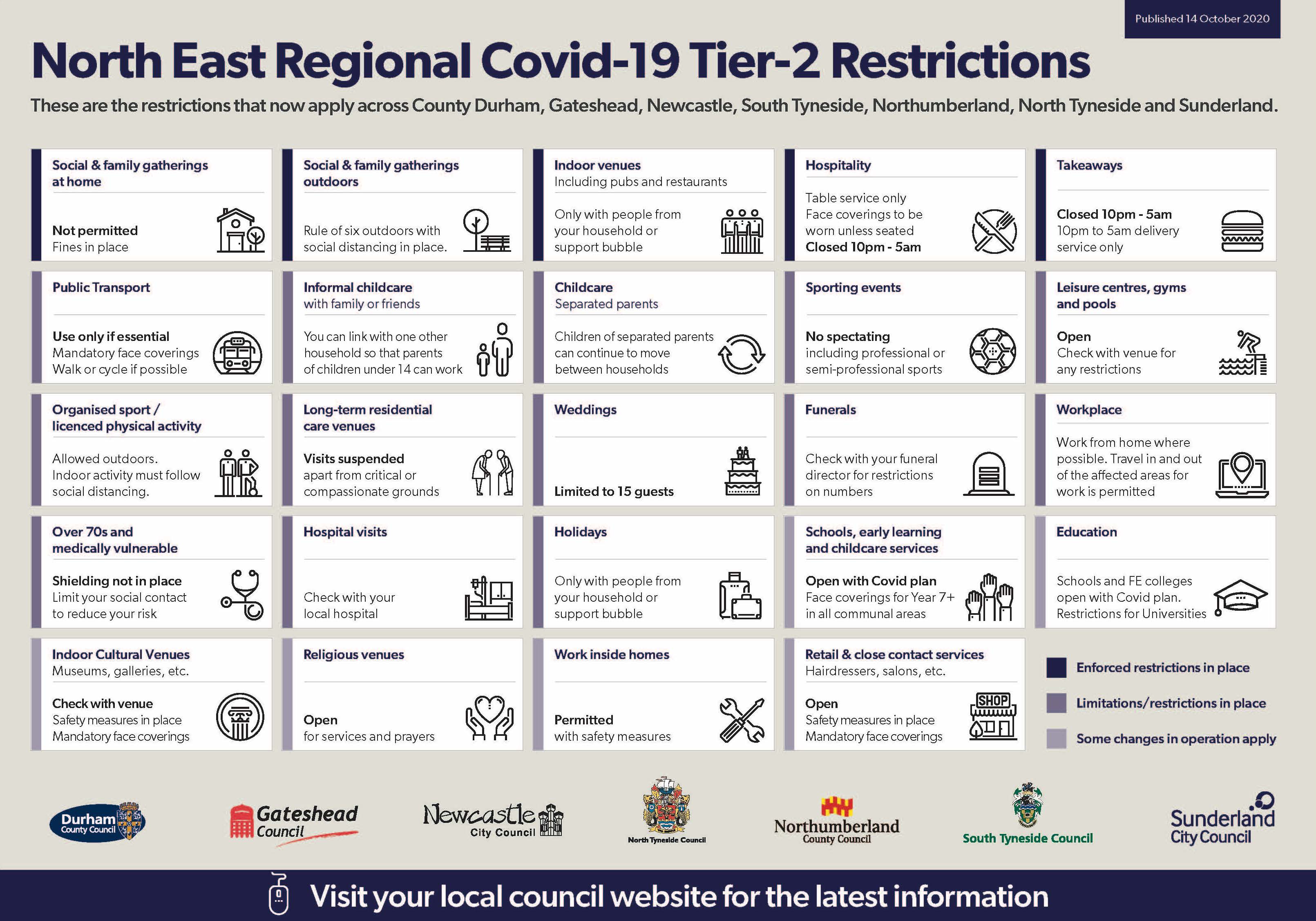 Local Covid Alert Level High - handy guide to what you can and cannot do (LA7) (accessible version)
Published 14 October 2020
North East Regional Covid-19 Tier-2 Restrictions
These are the restrictions that now apply across County Durham, Gateshead, Newcastle, South Tyneside, Northumberland, North Tyneside and Sunderland.
The image also contains logos from Durham County Council, Gateshead Council, Newcastle City Council, North Tyneside Council, Northumberland County Council, South Tyneside Council and Sunderland City Council.
Enforced restrictions in place
Social & family gatherings at home
Not permitted
Fines in place
Social & family gatherings outdoors
Rule of six outdoors with social distancing in place.
Indoor venues including pubs and restaurants
Only with people from your household or support bubble
Hospitality
Table service only
Face coverings to be worn unless seated
Closed 10pm - 5am
Takeaways
Closed 10pm - 5am
10pm to 5am delivery
service only
Limitations / restrictions in place
Public Transport
Use only if essential
Mandatory face coverings
Walk or cycle if possible
Informal childcare with family or friends
You can link with one other household so that parents of children under 14 can work
Childcare - Separated parents
Children of separated parents can continue to move between households
Sporting events
No spectating
including professional or semi-professional sports
Leisure centres, gyms and pools
Open
Check with venue for any restrictions
Organised sport / licenced physical activity
Allowed outdoors.
Indoor activity must follow social distancing.
Long-term residential care venues
Visits suspended apart from critical or compassionate grounds
Weddings
Limited to 15 guests
Funerals
Check with your funeral director for restrictions on numbers
Workplace
Work from home where possible. Travel in and out of the affected areas for work is permitted
Over 70s and medically vulnerable
Shielding not in place
Limit your social contact to reduce your risk
Hospital visits
Check with your local hospital
Holidays
Only with people from your household or support bubble
Some changes in operation apply
Schools, early learning and childcare services
Open with Covid plan
Face coverings for Year 7+ in all communal areas
Education
Schools and FE colleges open with Covid plan.
Restrictions for Universities
Indoor Cultural Venues - Museums, galleries, etc.
Check with venue
Safety measures in place
Mandatory face coverings
Religious venues
Open for services and prayers
Work inside homes
Permitted with safety measures
Retail & close contact services - Hairdressers, salons, etc.
Open
Safety measures in place
Mandatory face coverings